Precautionary Boil Water Advisory – Hardwood Forest and Shadow Lake Subdivisions in Brunswick – Tuesday, July 18, 2017
DRINKING WATER WARNING
BOIL YOUR WATER FOR THREE MINUTES BEFORE USING
Update as of 7/18/17 12:16 pm: Field testing results have shown no indication of a cross-connection with non-public distribution mains or irrigation systems. The distribution system has been flushed and all valves have been opened to maintain balanced flow of treated water. Chlorine residuals are within an effective and expected range. Water samples have been taken for testing in our lab but an all-clear message will not be possible until after the 22-24 hour testing incubation period. During this time, please continue to boil water before consumption in the affected area.
Service will be intermittent today, Tuesday, July 18, 2017, in the Hardwood Forest and Shadow Lake subdivisions off Harry Driggers Blvd in north Brunswick while we isolate valves to test for a possible cross-connection with a private irrigation system. Chlorine residuals began to drop about three weeks ago and an egg-water odor began to be reported to us, which resulted in flushing of hydrants and testing of water samples. We flushed approximately 50,000 gallons at hydrants and home outside spigots and found appropriate residuals in the water samples. The community irrigation systems were isolated with valves and turned off at their well pumps Monday, July 17, due to the possibility that these systems could be the primary cause of the issue. Out of an abundance of caution, we will be isolating all mains in this area systematically to investigate the cause of the fluctuating chlorine residuals.
It is unlawful and a threat to public health to create any physical cross-connection between the public water system and a private well. If you have performed any work to your water system or have seen anyone performing this type of work within the past three to four weeks, please contact Alvin Hall at 912.261.7162 or email him at ahall@bgjwsc.org.
This loss of pressure in the distribution system may cause back-pressure, back-siphonage, or a net movement of water from outside the pipe to the inside through cracks, breaks, or joints in the distribution system that are common in all water systems. Such a system failure carries with it a potential that bacterial contamination or other disease-causing organisms could enter the water distribution system. These conditions may pose an imminent and substantial health endangerment to persons served by the water system.
This precautionary boil water advisory is being published as a warning to those that live in, work in, or travel through the affected area. During the period of the loss of pressure, water will also not be available for fire suppression use. The map below indicates the limit to which this precautionary boil water advisory applies: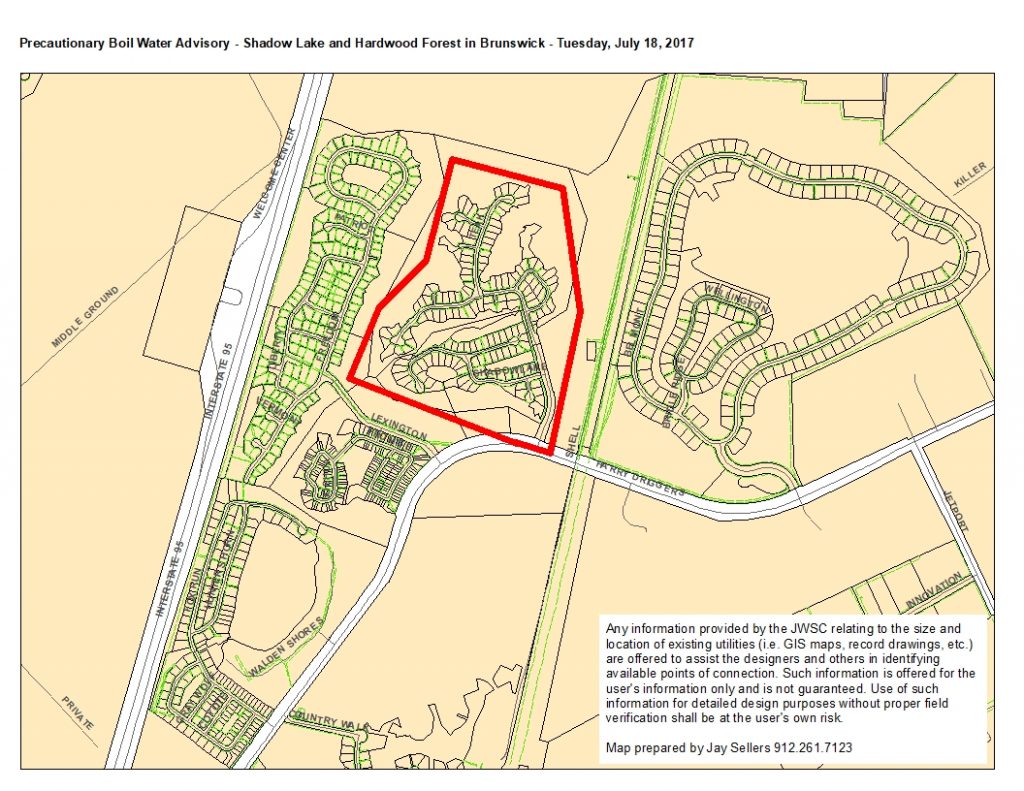 What should I do?
DO NOT DRINK THE WATER WITHOUT BOILING IT FIRST. Bring all water to a rolling boil for at least (3) three minutes, and let it cool before using, or use bottled water. Boiled or bottled water should be used for drinking, making ice, brushing teeth, washing dishes, and food preparation until further notice. Boiling kills bacteria and other organisms in the water. ALL STORED WATER, DRINK OR ICE MADE RECENTLY FROM THIS SUPPLY SHALL BE DISCARDED.
Bathing, showering and toilet flushing may be performed using water from the tap without boiling it first.
Inadequately treated water may contain disease-causing organisms. These organisms include bacteria, viruses, and parasites which can cause symptoms such as diarrhea, cramps, nausea, headaches, or other symptoms. They may pose a special health risk for infants, young children, some of the elderly and people with severely compromised immune systems.
The symptoms above are not caused only by organisms in drinking water. If you experience any of these symptoms and they persist, you may want to seek medical advice. People at increased risk should seek advice about drinking water from their health care providers.
What is being done?
As soon as pressure can be restored to the distribution system, our water lab personnel will take water samples that will be fully evaluated over the next twenty-four to forty-eight hour period following the repair of the main. Once we have determined that there is no longer a threat of harmful bacteria in the water, we will inform you that you are no longer required to boil your water by posting an update here on our website: http://www.bgjwsc.org.
Water System ID#: 1270000
Date distributed: 7/18/17 8:42 AM
What is a Boil Water Advisory? READ MORE HERE