Urbana Park Area Improvements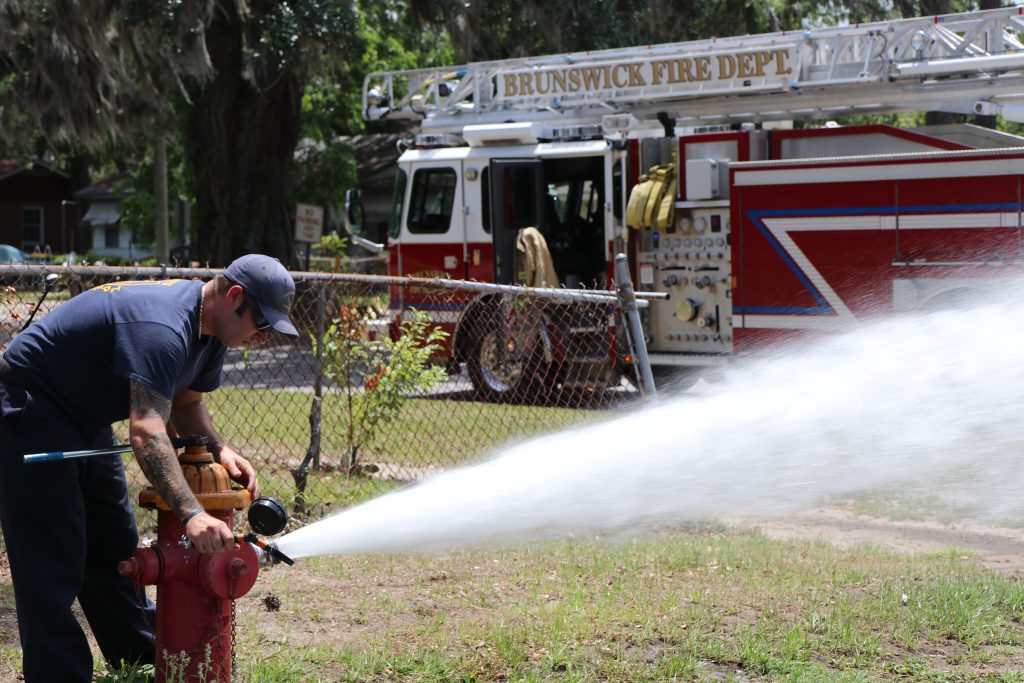 The Brunswick-Glynn Joint Water & Sewer Commission is pleased to announce that repairs made to the BGJWSC water system within the Urbana area of the City of Brunswick yielded both increased flow capacity and water pressure increases for the homes in the affected area as well as increases in pressure at associated fire hydrants in that area.  The result is a substantial improvement in firefighting capabilities.
Since November, 2015, the BGJWSC has been working in conjunction with the City of Brunswick to upgrade water, sewer, storm drainage and paving in the area known as Urbana Park within the City limits. This section of Brunswick, located in the grid between Gloucester Street and L Street from MLK Jr. Boulevard to Hwy 17, has not seen significant utility improvements in 40-plus years, leading to low fire protection and domestic service pressure due to corrosion in water mains which obstructed the flow in those water lines, much like clogged arteries. These old corroded and obstructed lines are a major concern for the BGJWSC, as the resulting low pressure puts many homes at higher risk of total loss due to fires that could not be controlled with the available water. BGJWSC staff teams with City of Brunswick Fire Department personnel in testing the water pressure at fire hydrants throughout the service area. Tests conducted in the Urbana Park area since the construction achieved substantial completion indicate much greater pressures and flows at the fire hydrants in this area.
Todd Kline, Senior Engineer of the BGJWSC, stated that "Thanks to the improvements that we've seen within the Urbana Park area, we're taking the initiative to identify areas lacking sufficient fire protection. The policy on how that need is defined is being developed now. We look forward to outlining that initiative with a visual of areas that have the greatest need." Kline went on to say that crews supervised by Derrick Simmons, Water Distribution Superintendent, will work closely with staff from both the City of Brunswick Fire Department and the Glynn County Fire Department to closely monitor results from routine fire flow testing and will prepare a map for the public highlighting the areas of concern which will accompany project updates delivered to Commissioners on a monthly basis during public meetings.
With the success of this project, the BGJWSC is seeking to identify other areas of concern within all districts, especially where low pressure will affect fire protection. While some of this repair and replacement can be completed by BGJWSC staff, some projects exceed our existing staff's capability. Where funding is available, BGJWSC will seek to prioritize contracts that will enable us to quickly and effectively improve fire service pressure across our entire user base. As SPLOST 2016 funding is focused upon major sanitary sewer collection system upgrades, any immediate upgrades will be funded by user rates from the regular operations. Any urgent project that is presently unfunded may require other funding sources to cover the cost.
BGJWSC Executive Director Jimmy Junkin added "As fire protection is a service that is utilized by not only rate payers but also visitors to Glynn County, we are going to be making significant investments of both time and money to ensure that anyone that is able to make use of our services will have confidence and trust that the water pressure and volume will be there when it's needed."