New Water Distribution Superintendent Chosen
The Brunswick–Glynn County Joint Water & Sewer Commission Executive Director Steve Swan has made his selection for the new Water Distribution Division Superintendent.   The search began more than two months ago with what became a nationwide search to fill this instrumental position. Twelve valid applications were received with two applicants being within the JWSC organization itself.   Applications came from as far as Dearborn Heights, MI; Green Bay, WI; Plymouth, NH; and Deland, FL. Seven of the twelve applicants were selected for a grueling two hour long interview. A three person panel asked detailed questions during each interview regarding work experience in water distribution, developing and managing budgets, managing assets and personal, engineering and construction related topics, as well as safety.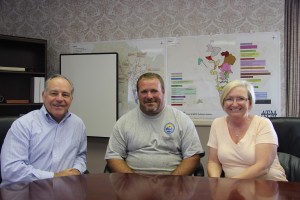 Derrick Simmons, an employee of the JWSC and the current Interim Superintendent was chosen as the new Superintendent of Water Distribution. Derrick became the interim superintendent approximately eight months ago when prior superintendent Gene Sapp made plans for his retirement this last year. Prior to service as the Interim Superintendent, Derrick spent four years as a department supervisor and over six as a crew leader and operator.
"Derrick has stepped up to the plate as interim superintendent and has provided a solid, dependable, safe, and organized division for the JWSC. He is what we were looking for to lead this important division into the future," Mr. Swan stated. "Derrick had some very stiff competition for this position, but he definitely has what it takes to lead that division as well as making the JWSC a more solid organization!"
The JWSC will soon have some more additions in order to fill positions that have recently become vacant. Two of those other positions include the Superintendent for the Systems Pumping & Maintenance Division and a Purchasing Director. Mr. Swan plans on making other organizational changes to better serve the needs of the JWSC and the community as a whole.