Staff Spotlight – Ray Marsh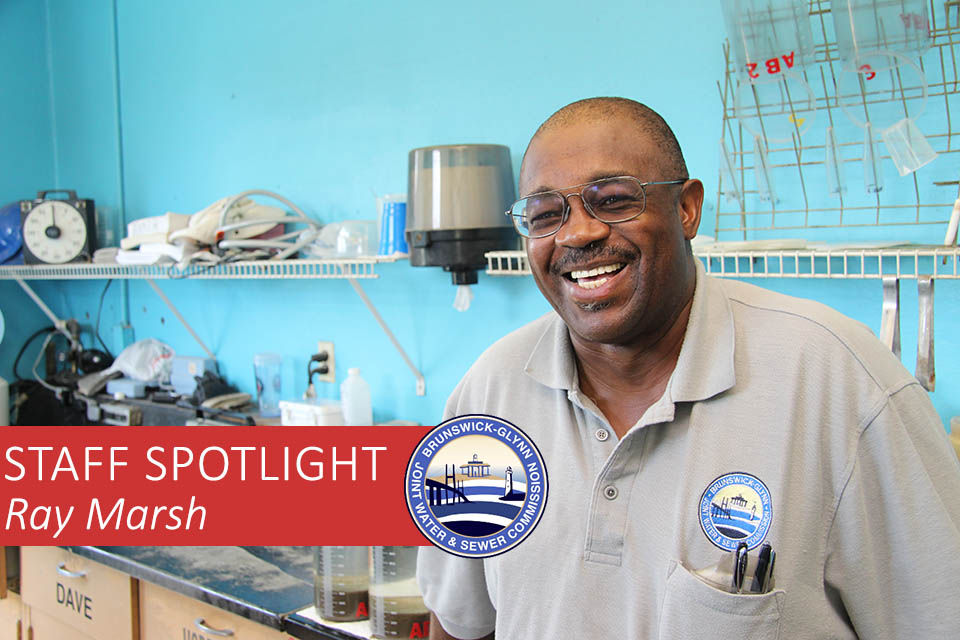 Ray Marsh
Staff Member since May, 2011
Latest Achievement – Waste Water Operator II
"Most days I find myself taking samples at the Academy Creek Waste Water Treatment Plant, making sure that the product that we treat is not polluted or contaminated in such a way as to be detrimental to the process of plant operations. The output of our process, the effluent, is almost drinking-water quality by the time it reaches the river."
The BGJWSC plant operators ensure that the outflow of the plant meets or exceeds US EPA and GA EPD standards. On a day-to-day basis, Mr. Marsh takes samples at four points every two hours. Taking this approach means continually monitoring the flow of waste, referred to as influent, and keeping records on the level of water versus solids. On average, seven million gallons of waste water flows into the plant every day, not counting the St. Simons Island Dunbar Creek and South Mainland Brunswick plants, which are also served by members of the operational staff. Marsh is part of a team of eight full-time operators at Academy Creek that tracks the treatment process for the typical four hour path from inflow to outflow.
The BGJWSC operates the only high-rate pure oxygen waste water treatment plant within the state of Georgia. The advantage of this approach is that we can accommodate significant industrial flow, along with the expected residential and commercial use, on a plant with what is considered to be a very small real estate footprint. Land use at Academy Creek is maximized for this flow, which also assists Mr. Marsh in being able to perform his surveys quickly.
Before coming on staff with the BGJWSC in May, 2011, Ray was a waste water operator III with the Jekyll Island Authority, overseeing a process very similar to ours. Having performed those duties for five years, he took an opportunity to advance his skills and experience by becoming part of our treatment team. He recently attended the training performed by the Georgia Water and Wastewater Institute in Carrollton and passed the testing process to be qualified as Waste Water Operator II, certified by the Georgia Secretary of State. He's now capable of performing some tasks with little to no oversight.
"We're proud of his accomplishments within the organization and consider him a valuable teammate," said Mark Ryals, Superintendent of the Waste Water Treatment Division. "I appreciate his high standard for the work he performs and can expect even more professionalism and success from him in the future. Thanks, Ray."