Staff Spotlight – Dana Read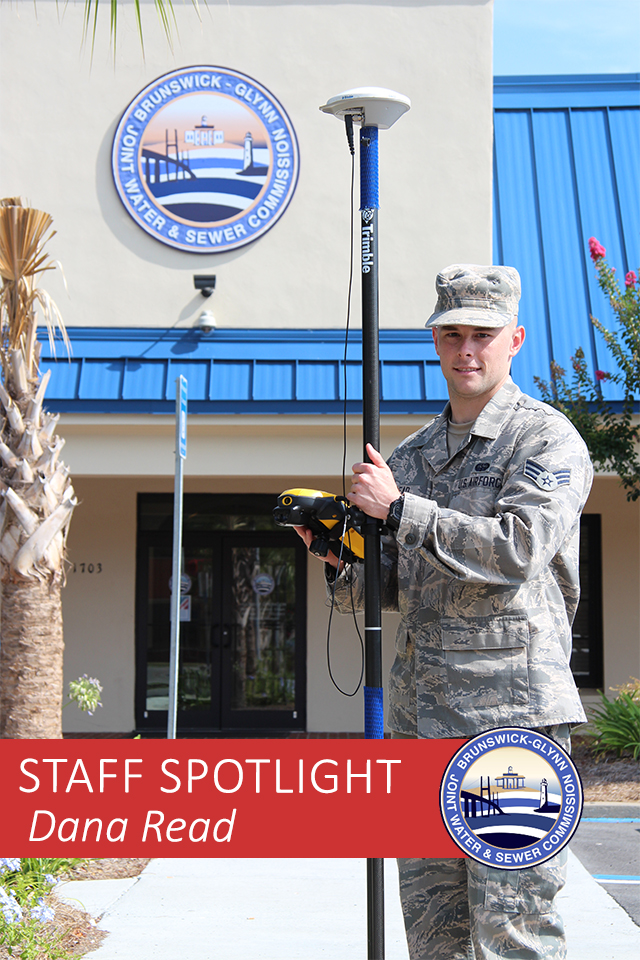 Staff Spotlight on Dana Read
Team Member since August 13, 2007
With 'veterans preferred' appearing so often on job descriptions these days, it's easy to recognize that the U.S. workforce benefits from the experience, technical skill sets, honesty, integrity and self-discipline exhibited by those that have bettered themselves by the challenges of serving in the Armed Forces. Presently, the Joint Water & Sewer Commission employs 138 staff. Twenty five are active duty military service veterans, many of whom have served in times of conflict.
We have also encouraged those that work at the JWSC to pursue opportunities in the National Guard and Reserve branches, allowing them to maintain their position in the organization while serving for extended periods of time stateside and abroad. One such highly valued employee is Dana Read, a Geographic Information Systems Analyst in the Planning & Construction Division of the JWSC as well as a Senior Airman with the 224th Joint Communications Support Squadron of the Georgia Air National Guard, based out of Brunswick, Georgia.
We're proud to have had Dana with us at the JWSC since 2007 and even more proud to see him preparing to spend the next 10 months deployed as part of his duties as a Client Systems Specialist (3D1X1). While serving with the Air National Guard since March of 2012, Dana has had the opportunity to train within various areas of the communications field. The 224th provides deployable tactical communications for Joint Task Force Headquarters and Joint Special Operations Task Force Headquarters. It can operate in environments without a reliable terrestrial network, and is often the first to deploy in order to establish communications networks and other C4 services to enhance command and control between units, services, or coalition forces.
His day-to-day work at the JWSC collecting utility system data, developing GIS mapping content, and analyzing flow patterns makes him a vital part of our efforts to create a reliable and valuable database that allows our management team to make decisions on how to best use our limited resources in the most effective manner to benefit those that make use of our services.  We're confident that the commitment that he has made to pursue military service has also made him a vital part of his unit's success in accomplishing the mission that he is tasked with.
We salute Senior Airman Dana Read and welcome his return to the JWSC next spring following his deployment.
Save
Save
Save