Staff Spotlight – Billy Simmons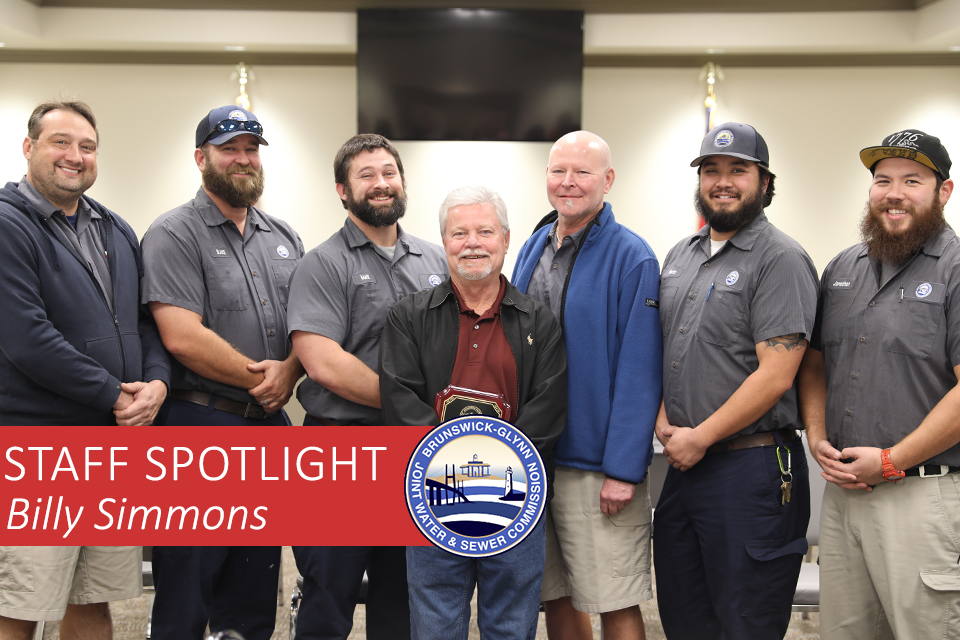 Spotlight on Billy Simmons
Team Member Since 1983
Latest Achievement: Retirement
Not every career starts off with a clear plan. Some staff members begin work with us hoping to commit their lives to public service. Some intend on using the opportunity as a stepping stone while seeking other work.
One such employee is Billy Simmons, Water Production Superintendent, who recently retired from the BGJWSC after 35 years with the agency. "I was a union pipe fitter and crane operator and got laid off in 1982" Simmons said. "I spent a long year on unemployment before getting a phone call from a friend that the City of Brunswick Water Department was looking for help." Simmons began his journey as a water operator trainee, a path that continued from being the entry level technician to managing the division.
His duties as a state certified water operator and laboratory technician, and that of all of the dedicated staff of the Water Production Division of the BGJWSC, included the task of routinely testing about 70 samples sites all over the utility system each month to ensure that the water is safe to drink. He also responded to any concerns that were called in by customers regarding odor, appearance or taste. Any failure to meet drinking water standards established by the United States Environmental Protection Division and Georgia State Department of Natural Resources could result in illness in our community. Any report of a water quality concern is promptly and adequately investigated not only out of legal requirement but out of a personal conviction. Billy said that "we are very conscientious about giving you confidence that you and your family are getting the same quality water that we give to our own families."
What started out as just a job needed to make ends meet allowed Billy Simmons to provide for his growing family, having raised two children to adulthood while employed with the BGJWSC. It also provided him with an income that will take care of him and his wife now that he has retired in December of 2017. Having recognized early on that the agency would become his career, Simmons took advantage of investment opportunities offered by the Georgia Municipal Association to supplement what was offered by the agency. He recommended that method to his staff as well, who are pictured here with him. He has mentored them all to invest at this stage of their careers knowing that he was in their shoes not long ago. He is grateful of the wise choices that he made in his career and is looking forward to enjoying the benefits of those decisions now.
Simmons is especially proud that his team works so well together and will continue being led by newly-appointed Water Production Superintendent Donnie Bankston, an operator that he mentored closely for the last three years. "I'm proud of my team and know with complete confidence that they'll continue to do the valuable work that I spent my career doing. All of my staff are dedicated to taking care of this community."
The staff and management of the BGJWSC highly regard the hard work that Billy Simmons performed during his long career and wish him well in his retirement.